PC DVD SOFTWARE
Since ancient times, storytellers have been bound to a single linear structure with which to tell their stories. CustomPlay's PC DVD software realizes the potential of random access technologies to provide an extensive set of innovative movie playback features. The software's features include Presentations, Compilations, Subjects, Dilemmas, Best Of, Performers, Filmmaking, Plot Info, Shopping, Music, Locations, Search, Preview, Control, and playback functions including Who, What, and Notifications.

This software is not available on mobile devices.
Presentations
Presentations are story-driven depictions that are focused on a specific genre, theme, perspective, or idea. By selectively skipping content, the depiction offers a more enjoyable viewing experience to its intended audience. Examples of Presentations include Action, ActionX, Romance, Comedy, and Intellectual. A 60 Minute Presentation retains the primary storyline, principal characters, major themes, and most memorable moments of the film. A Perspective Presentation places a viewer within the emotional framework of a character.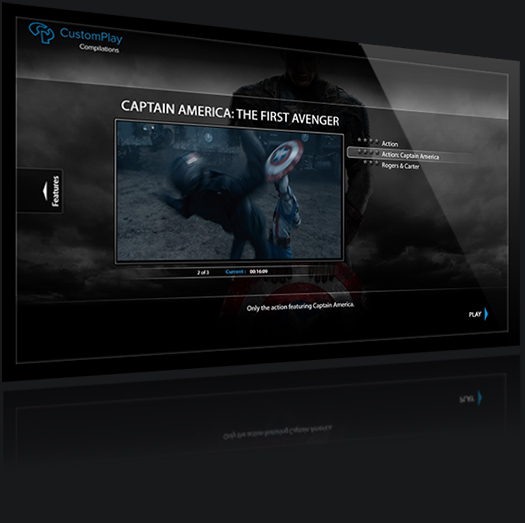 Compilations
Compilations bring together only the clips from the movie that share similar content or themes (10-30 minutes). For example, the "Action" Compilation of Dredd plays all the graphic action scenes without plot or story to interrupt the violence. The "Ted Gets a Job" Compilation of Ted features clips relating to Ted's employment at the grocery store. The "Intellectual" Compilation of Contact plays segments that relate to the religious and philosophical themes that arise throughout the film.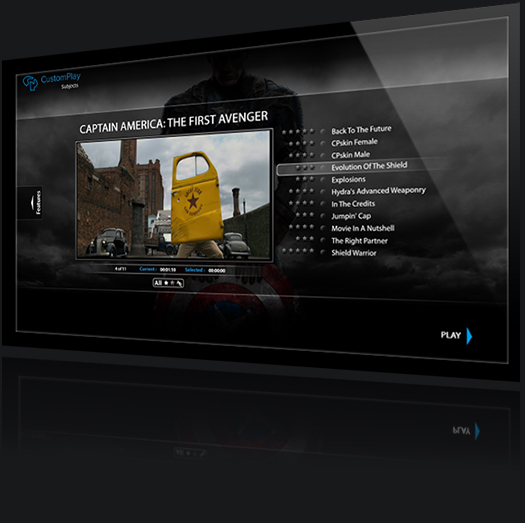 Subjects
Subjects are fun and polished sets of segments that are intended to amuse, inform, or parody specific elements of a film (1-3 minutes). Examples of Subjects include Action, like "Nonstop Gunfire" in Predator; the Mannerisms of a specific character, like "Blinky Bella" in Twilight; Film Techniques, like "Lens Flares" in Star Trek; items, like "Oranges" in The Godfather; "Movie in A Nutshell", a nutty parody of the movie; and "Dirty Talk", in which non-sexual dialogue is taken out of context.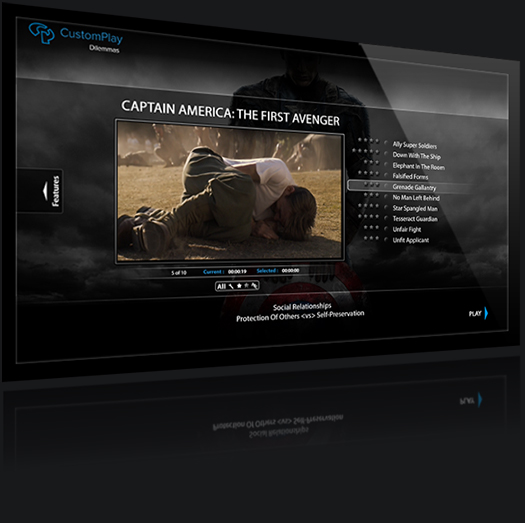 Dilemmas
Dilemmas present some of the most intellectually stimulating clips in a movie to provoke thought and conversations (30-120 seconds). The feature depicts conflicts between two competing moral principles. Example of moral principles include: compassion, financial responsibility, obligation to employees, parental responsibility, pursuit of soul mate, and self-actualization.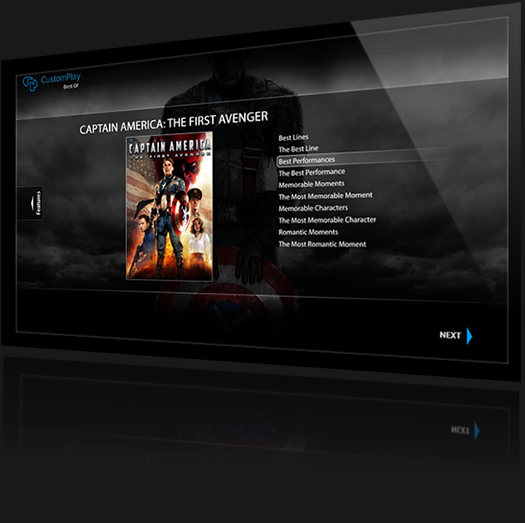 Best Of
Honoring excellence in filmmaking, Best Of presents the Best Lines (5-10 seconds each), Best Performances (1-2 minutes each), Memorable Moments (1-2 minutes each), Memorable Characters (30-45 seconds each), and Romantic Moments (2-3 minutes each). Examples of the Best Of depictions include: Vito Corleone's "I'm gonna make him an offer he can't refuse" Best Line from The Godfather, Marlon Brando's "I could have been a contender" Best Performance from On the Waterfront, Captain Jack Sparrow's Pirates of the Caribbean Most Memorable Character, and Neo's bullet-time Most Memorable Moment in The Matrix.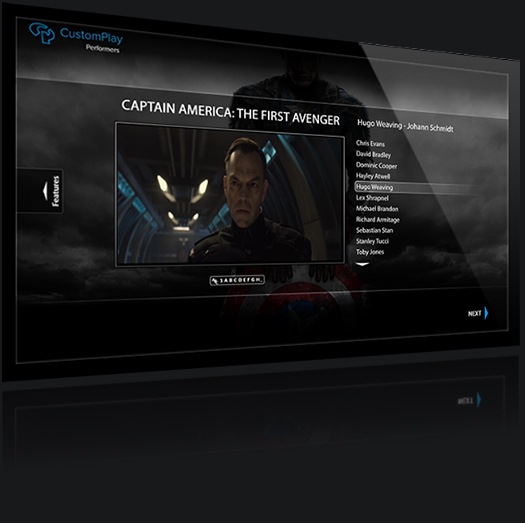 Performers
Performers enables quick retrieval of all the clips (30-60 seconds each), best lines (5-10 seconds each), and best performances (1-2 minutes each) by a principal performer within a movie. The feature also showcases the faces and talents of noteworthy actors and actresses with the Close-Ups (30-45 seconds each) and Memorable Characters (30-45 seconds each) depictions.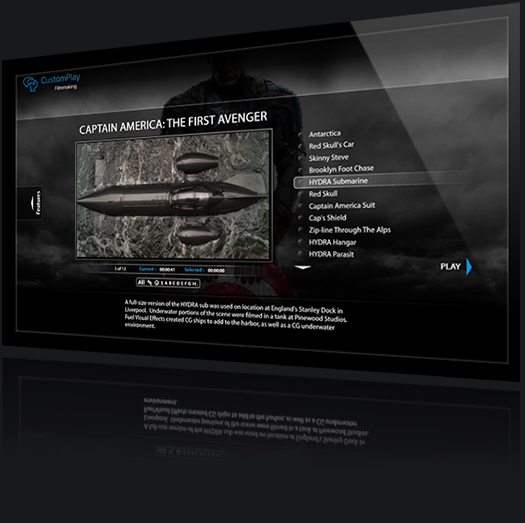 Filmmaking
Filmmaking provides brief explanations of the most noteworthy techniques used in the production of the movie. The feature enables the viewer to gain a greater appreciation of the ever evolving art form. Filmmaking can be accessed during movie playback, or through its own list of individual segments (15-40 seconds).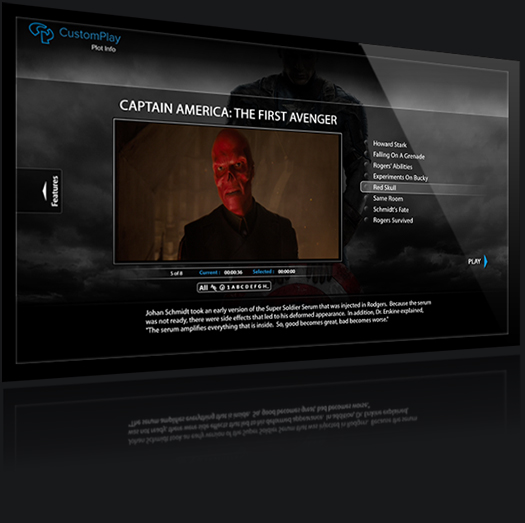 Plot Info
Plot Info provides brief explanations of the ambiguous or noteworthy plot points in the movie. The feature helps the viewer to gain a greater understanding of the movie's subtleties and key concepts. Attention is drawn to significant clues without spoiling the story. Plot Info can be accessed during movie playback, or through its own list of individual segments (20-60 seconds).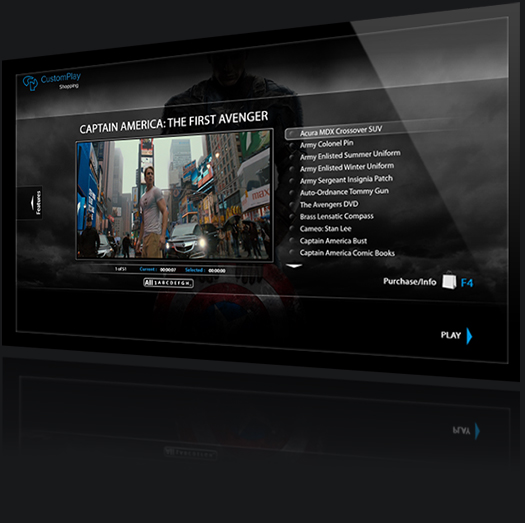 Shopping
Shopping provides website links for items and locations depicted in the movie. The feature can be accessed during movie playback, or through its own catalog of 15-40 seconds depictions. Shopping highlights include: a life size statue of the T-800 statue from Terminator, the Algerian Love Knot necklace from Casino Royale, Arthur's leather jacket from Inception, James Bond bungee jump experience from Golden Eye, and a Harry Potter tour in London.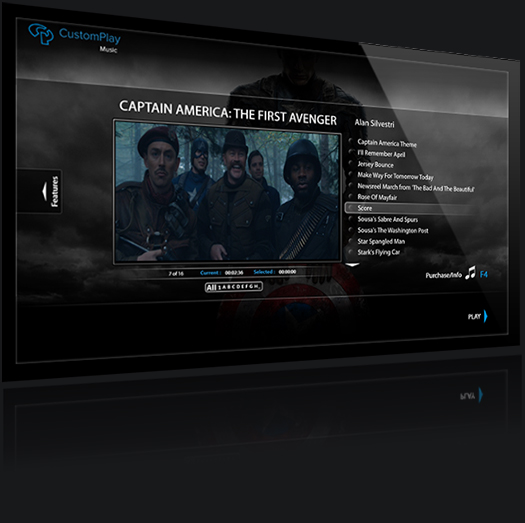 Music
Music provides Amazon.com links for music presented in the movie. The feature can be accessed during movie playback, or through its own catalog of 30-90 second depictions.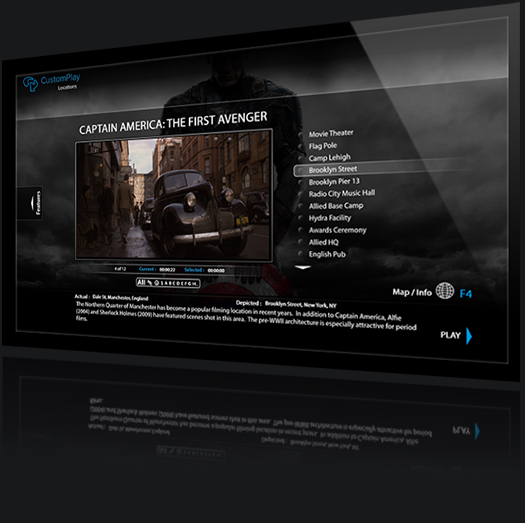 Locations
Locations identifies the noteworthy places depicted in the movie, as well as the actual shooting locales. The feature provides links to Google Maps' aerial and street views, and to corresponding information websites. Locations can be accessed during movie playback, or through its own list of individual 10-30 second segments.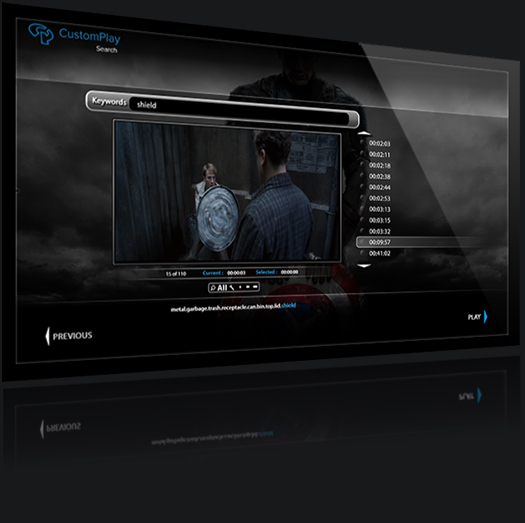 Search
Search provides the most extensive and refined in-video search technology that allows the retrieval of items, actions, performers, characters, locations, clips, and scenes. A Search segment is 5-10 seconds, a clip is 30-60 seconds, and a scene is 2-5 minutes. Examples of keyword searches include "Trinity's Ducati 996″ in The Matrix, "Spider-Man kiss MJ" in Spider-Man, "lightsaber duel" in Star Wars, "Brooklyn Decker cleavage" in Battleship, and "bloody horse head" in The Godfather.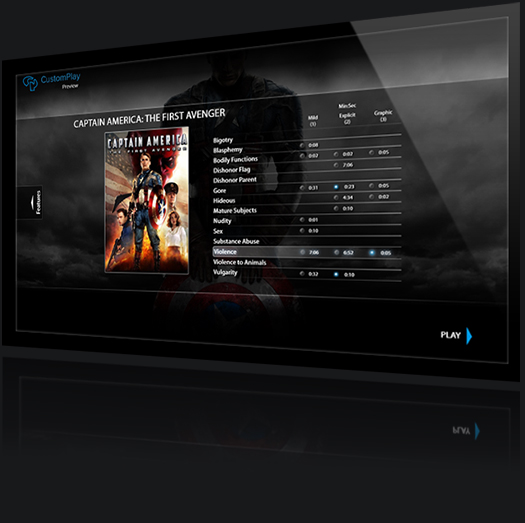 Preview
Preview enables a viewer to selectively play mild, explicit, and/or graphic depictions in each of fourteen categories of possibly objectionable content including violence, gore, sex, and profanity. Preview permits an informed decision when adjusting the objectionable content settings.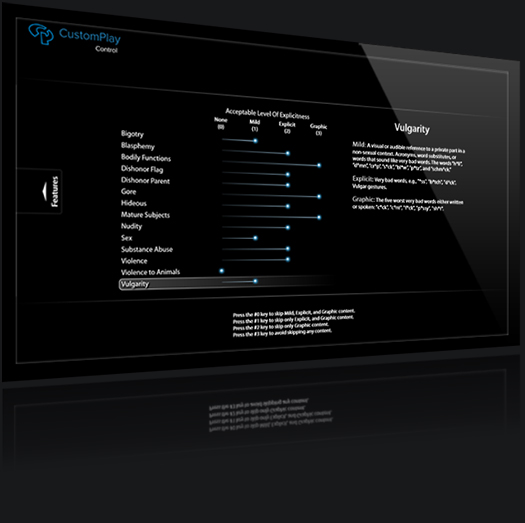 Control
Control customizes the playing of a movie according to a viewer's preferred level of explicitness (None, Mild, Explicit, and Graphic) in each of fourteen categories of possibly objectionable content (Bigotry, Blasphemy, Bodily Functions, Dishonor Flag, Dishonor Parent, Gore, Hideous, Mature, Nudity, Sex, Substance Abuse, Violence, Violence to Animals, and Vulgar Words). CustomPlay's Control is the most advanced, effective, and flexible objectionable content control system.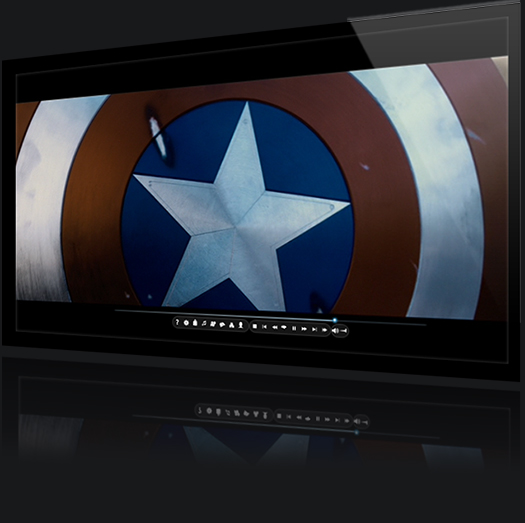 In-Video
Have you ever been watching a movie and asked yourself "Who is that actor?" or "What did they just say?" Now CustomPlay answers these questions for you with its advanced in-video functions.
WHO
The Who? function identifies the Performer/Character depicted in the current clip. A link is provided to each performer's biography and filmography.
WHAT
The What? function rewinds the movie a user-defined amount of time, e.g. 30 seconds, and continues playback with the subtitles automatically enabled only during the replayed portion.
NOTIFICATIONS
The various Notification functions display, according to a viewer's preferences, in-video icons when information is available for Shopping, Music, Filmmaking, Locations, and Plot Info. Information, descriptions, and website links are made available.
PLAY FROM
The Play From function allows a viewer to continue playback from their current position regardless of the feature being played. If, for example, while playing a Best Line, the viewer wants to see what happens next, the Play From function would continue playback of the movie following the Best Line.
12 Years A Slave 2013
2 Fast 2 Furious 2003
2001: A Space Odyssey 1968
21 Jump Street 2012
300 2006
300 Rise Of An Empire 2014
Act Of Valor 2012
Alice In Wonderland 2010
Alien (Director's Cut) 1979
Alien 3 1992
Alien Vs Predator Requiem (Unrated) 2007
Alien: Resurrection 1997
Aliens (Extended Cut) 1986
Amazing Spider Man 2, The 2014
Amazing Spider Man, The 2012
Anchorman: The Legend Of Ron Burgundy (Unrated) 2004
Argo 2012
Artist, The 2011
Avatar 2009
Avengers, The 2012
Back To The Future 1985
Batman Begins 2005
Battleship 2012
Big Lebowski, The 1998
Blind Side, The 2009
Bloodsport 1988
Book Of Eli, The 2010
Bourne Legacy, The 2012
Braveheart 1995
Bridesmaids (Unrated) 2011
Butch Cassidy And The Sundance Kid 1969
Cabin In The Woods, The 2012
Captain America: The First Avenger 2011
Captain America: The Winter Soldier 2014
Casablanca 1942
Casino Royale 2006
Citizen Kane 1941
Cloud Atlas 2012
Crash 2004
Dark Knight Rises, The 2012
Dark Knight, The 2008
Departed, The 2006
Despicable Me 2010
Despicable Me 2 2013
Devil Wears Prada, The 2006
Django Unchained 2012
Dredd 2012
Dumb And Dumber 1994
Edge Of Tomorrow 2014
ET: The Extra Terrestrial 1982
Expendables 2, The 2012
Expendables, The 2010
Fast And Furious 2009
Fast And Furious 6 2013
Fast And Furious: Tokyo Drift, The 2006
Fast And The Furious, The 2001
Fast Five (Extended Cut) 2011
Fight Club 1999
Flight 2012
Forrest Gump 1994
Frozen 2013
Ghostbusters 1984
Ghostbusters 2 1989
Gladiator 2000
Godfather, The 1972
Goodfellas 1990
Gravity 2013
Hangover (Unrated), The 2009
Hangover II, The 2011
Hobbit: An Unexpected Journey, The 2012
Hobbit: The Desolation Of Smaug, The 2013
How To Lose A Guy In 10 Days 2003
How To Train Your Dragon 2010
Hunger Games, The 2012
Hurt Locker, The 2009
I Am Legend 2007
Ice Age 4: Continental Drift 2012
Inception 2010
Incredible Hulk, The 2008
Inglourious Basterds 2009
Iron Man 2008
Iron Man 2 2010
Iron Man 3 2013
Jaws 1975
Jazz Singer, The 1927
Jurassic Park 1993
Kick Ass 2010
Kick Ass 2 2013
King's Speech, The 2010
Lego Movie, The 2014
Life Of Pi 2012
Looper 2012
Man Of Steel 2013
Matrix Reloaded 2003
Matrix Revolutions 2003
Matrix, The 1999
Men In Black 3 2012
Million Dollar Baby 2004
Monsters INC 2001
Monsters University 2013
No Country For Old Men 2007
Notebook, The 2004
Oblivion 2013
Pacific Rim 2013
Pirates Of The Caribbean 2: Dead Man's Chest 2006
Pirates Of The Caribbean 3: At World's End 2007
Pirates Of The Caribbean: Curse Of The Black Pearl 2003
Pirates Of The Caribbean: On Stranger Tides 2011
Predator 1987
Predator 2 1990
Predators 2010
Pretty Woman 1990
Princess Bride, The 1987
Prometheus 2012
Psycho 1960
Pulp Fiction 1994
Rise Of The Planet Of The Apes 2011
Rocky 1976
Saving Private Ryan 1999
Shawshank Redemption, The 1994
Shrek 2001
Shrek 2 2004
Silence Of The Lambs, The 1991
Sin City 2005
Singin' In The Rain 1952
Skyfall 2012
Sleepless In Seattle 1993
Slumdog Millionaire 2008
Social Network, The 2010
Spider Man 2002
Spider Man 2 2004
Spider Man 3 2007
Star Trek 2009
Star Trek II: The Wrath Of Khan (Director's Cut) 1982
Star Trek III: The Search For Spock 1984
Star Trek IV: The Voyage Home 1986
Star Trek V: The Final Frontier 1989
Star Trek VI: The Undiscovered Country 1991
Star Trek: First Contact 1996
Star Trek: Generations 1994
Star Trek: Insurrection 1998
Star Trek: Into Darkness 2013
Star Trek: Nemesis 2002
Star Trek: The Motion Picture (Director's Cut) 1979
Star Wars: Episode I The Phantom Menace 1999
Star Wars: Episode II Attack of the Clones 2002
Star Wars: Episode III Revenge of the Sith 2005
Star Wars: Episode IV A New Hope 1977
Star Wars: Episode V The Empire Strikes Back 1980
Star Wars: Episode VI Return of the Jedi 1983
Tangled 2010
Ted (Unrated) 2012
Terminator 2: Judgment Day 1991
Terminator 3: Rise Of The Machines 2003
Terminator, The 1984
Terminator: Salvation 2009
Thor 2011
Thor: The Dark World 2013
Top Gun 1986
Toy Story 3 2010
Transformers 2007
Transformers 2: Revenge Of The Fallen 2009
Transformers: Age of Extinction 2014
Transformers: Dark Of The Moon 2011
Tron: Legacy 2010
Twilight 2008
Twilight: Breaking Dawn Part 1 2011
Twilight: Breaking Dawn Part 2 2012
Twilight: Eclipse 2010
Twilight: New Moon 2009
Unfaithful 2002
Vertigo 1958
Vow, The 2012
Wizard Of Oz, The 1939
Wolf Of Wall Street, The 2013
Wreck It Ralph 2012
Xmen: Days of Future Past 2014